Humberside Aviation Society has been established for many years, and although some of you visiting our web site for the first time may not have previously known about us, established enthusiasts will doubtless be aware of the history of our long running society.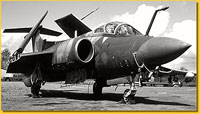 Buccaneer S.2 XN974
The Buccaneer is one of "the" classic aircraft designs to come from our region and our chosen emblem. The type was designed and built at Blackburn's Brough plant near Hull, (now BAE SYSTEMS Brough). This example currently resides at the Yorkshire Air Museum at Elvington in East Yorkshire.
The former North Humberside region (now known as the East Riding of Yorkshire once again), is without doubt, synonymous with aviation past and present, both in terms of airfields and aircraft manufacturing alike. Understandably this heritage and tradition encouraged a strong public interest in aviation within the county and this undoubtedly acted as the initial catalyst for the foundation of our society back in 1967.
Today the region remains our focus of interest and although our society is relatively small when compared to some groups, this focus has helped us to maintain our core membership and to keep a forward momentum. As part of our desire to continually adapt, we are now "on-line" in order that people with access to the Internet might find out about us that little bit quicker, and of course to spread the word. We therefore hope our web site will prove useful for this purpose and hopefully encourage you to join us no matter where in the world you may reside.
Forward